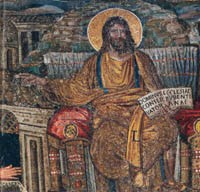 Is it possible to identify the first-century man named Jesus behind the many stories and traditions about him that developed over 2,000 years in the Gospels and church teachings? These articles, hand-selected by the Biblical Archaeology Review editors especially for members of the BAS Library, attempt to answer this thought-proving question and grapple with the critical archaeological and Biblical issues that surround the search for the historical Jesus.
---
Bible Review 7:03, Jun 1991
By John P. Meier
Bible Review 5:05, Oct 1989
By Marcus J. Borg
BAR 28:06, Nov/Dec 2002
By Steven Feldman and Nancy E. Roth
Bible Review 12:03, Jun 1996
By N. T. Wright
BAR 36:06, Nov/Dec 2010
Bible Review 12:05, Oct 1996
By Dale C. Allison Jr.
Bible Review 12:02, Apr 1996
By John Dominic Crossan
Bible Review 9:03, Jun 1993
By John P. Meier
Bible Review 11:06, Dec 1995
By Luke T. Johnson