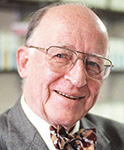 The year was 1945, and 18-year-old German navy officer Helmut Koester became an American prisoner of war. He spent the remainder of the war in a German prisoner-of-war camp.
Under the shadow of World War II, Koester was confirmed into the Evangelical Lutheran Church of Germany. Romans 1:16, a verse he chose himself, was his mantra: "I am not ashamed of the Gospel; it is the power of God for salvation to everyone who has faith, to the Jew first and also to the Greek."
"I certainly did not fully realize then the implications of that statement," reflected Koester much later in life. "What I realized at that time, however, was the vision of an alternative that would enable me to hang on to my Christian identity in spite of all the compromises that were required to survive in evil times. Yet, I still thought I had to obey the authorities of the state and serve my country. Little did I know that it was this faith, of which the Epistle to the Romans speaks—the utter reliance upon God's loving acceptance—that would be the only thing that finally remained, when all the heroism and all the great deeds had been shattered and brought to naught."a
In the midst of Nazi Germany, this verse was a powerful choice and reflects the type of scholar and man Koester would become.
On January 1, 2016, at the age of 89, Helmut Koester died.