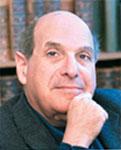 This column will be different from any of the others I have written. In every column, I promote reading the Bible and applying its words to the contemporary world. (It is not my fault that many purveyors of popular culture misapply more than they apply!) This time, in addition to this tried-and-true approach, I am promoting myself or, more specifically, the compilation of my columns that BAS is publishing as an eBook titled The Bible in the News: How the Popular Press Relates, Conflates and Updates Sacred Writ.
The powers-that-be at BAS have been very supportive of this collection, as have my wife, my daughters and my dogs (though not necessarily in that order). But do I get any support for this project from the Bible? Alas, it's not very promising since the first—and probably the last—word on this subject, coming from Ecclesiastes, offers little that is positive: "of making many books there is no end" (12:12, in the King James Version).
Perhaps my old friends in the popular press can offer something more supportive. It's at least worth a try.