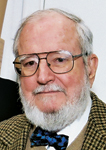 For 35 years, Frank Cross was the Hancock Professor of Hebrew and Other Oriental Languages at Harvard University—the third oldest university chair in the country and perhaps the most prestigious perch in Biblical academia.
His influence in the field has been vast. He has supervised the doctoral dissertations of more than a hundred students, many of whom went on to become senior scholars in their own right. As his student, now also a Harvard professor, Lawrence Stager has written: Cross's high expectations of his doctoral students "often drove them to achieve at a higher level than they imagined for themselves." (Larry has dedicated the upcoming third volume of the Ashkelon publication to Frank and another mentor, Benjamin Mazar.1)
Cross's own scholarship was equally influential. A member of the original Dead Sea Scroll publication team, his volume The Ancient Library of Qumran and Modern Biblical Studies (now in a revised third edition2) is a classic. His seminal essay on "The Development of the Jewish Scripts" established the paleography of Second Temple Hebrew scripts.3 When the dates proposed in this study were subsequently confirmed by means of carbon-14 analysis of representative scrolls, Frank was said to have remarked that he was pleased that his paleographical dates had confirmed the validity of carbon 14.