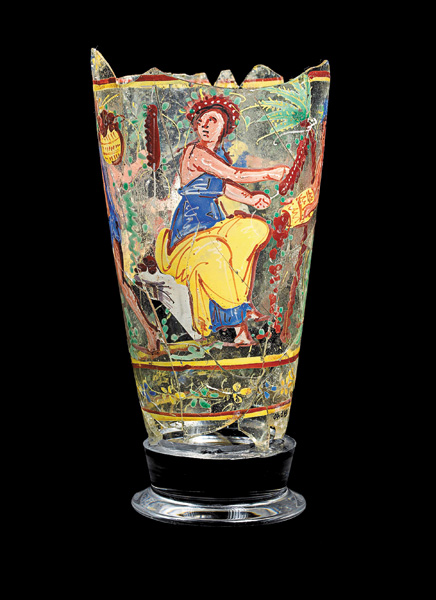 Even after nearly 2,000 years, the colors on this painted glass goblet are still brilliant. Donning an aureole-type headdress, the woman on the glass is harvesting dates. Another female figure and two male figures of lesser social standing— judging by their dress—are also depicted reaping the sweet bounty as the scene extends around the goblet.
The 5-inch-tall goblet was found in the ruins of a palatial building in ancient Kapisa (modern-day Bagram, Afghanistan), a city that was, by the first century A.D., a summer capital of the Kushan people, whose empire had its roots in China.
Chemical analyses of the glass have revealed typological and mineralogical parallels to ancient glassware in Egypt, Mesopotamia, Rome and Arabia. Other glass goblets found nearby depict images of warriors that some scholars identify with scenes from Homeric epics; still other goblets portray scenes indicating a possible Egyptian or African connection. The goblet is probably an import from somewhere to the west, evidence of ancient Kapisa's role as a crossroads between the empires of East and West.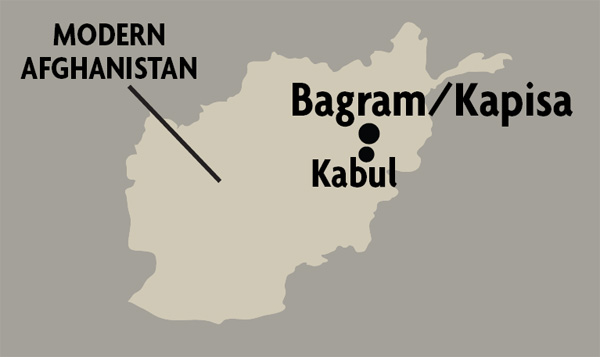 The goblet is part of the exhibit Afghanistan: Hidden Treasures from the National Museum, Kabul, which is on view until October 12 at the Bonn Museum in Germany, the final stop on its two-year world tour.