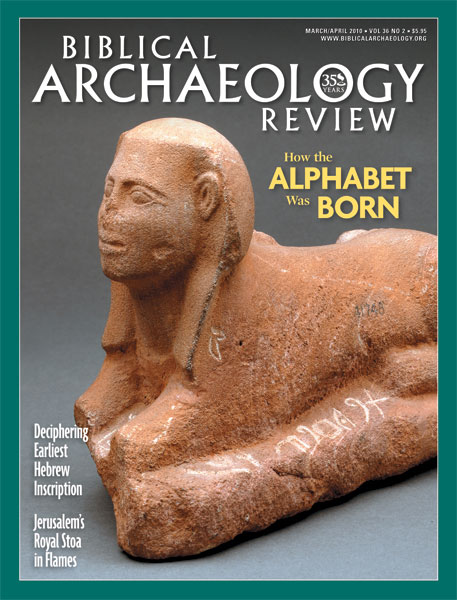 Wow! What an Article!
Thanks for the fascinating and well-written article on the alphabet (Orly Goldwasser, "How the Alphabet Was Born from Hieroglyphs," BAR 36:02). It was a delight to read.
Martin Harris
Jonesborough, Tennessee
This letter will have to suffice for the many letters we received with the same sentiments. The letters that follow raise substantive questions.—Ed.
How Rare Is the Sinai Hieroglyph?
The following letter comes from a prisoner in a California state prison, as indicated in the signature and by a prison stamp indicating the letter has passed the prison censor.

We get lots of letters from prisoners, but rarely one as erudite as this one. We wrote to Mr. Fenstermacher, inquiring how he had learned so much about hieroglyphs. He replied:

"As for the question, How I learned about Egyptian hieroglyphs? Truth is, I've spent the abundance of the time I've been given to explore one of my loves: Egypt. I started with extracting miscellaneous Egyptian words that authors translated in books. I ended up over the course of time, with huge handwritten lists of Egyptian words. I still was extremely unsatisfied, because I still had no understanding of the grammar.