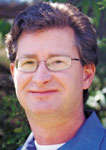 On July 1, 2010, John F. Kutsko will become executive director of the Society of Biblical Literature (SBL), the world's oldest and largest international organization of scholars in the field of Biblical studies. Kutsko succeeds Kent Richards, who has been an officer of SBL since 1976.
Kutsko completed his Ph.D. in Hebrew Bible/Old Testament at Harvard University in 1997 and has been active in SBL publishing and academic programs in addition to having more than 20 years of publishing and executive experience. He worked on the Anchor Bible Dictionary, as well as holding editorial positions at Hendrickson Publishers and Abingdon Press.
After an extensive international search and unanimous nomination by the search committee, the SBL Council affirmed Kutsko's selection at its April meeting.
SBL Council Chair Bruce Birch added, "We are looking forward to Kutsko's leadership of an organization committed to core values of 'responsiveness to change, scholarly integrity, inclusiveness, collegiality, collaboration and accountability.'"