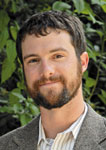 The Biblical Archaeology Society is pleased to announce that the winner of the 2010 Hershel Shanks Prize is Steven H. Werlin, a doctoral candidate at the University of North Carolina at Chapel Hill and adjunct instructor at the University of Arizona.
The $2,500 Hershel Shanks Prize, supported by a contribution from Sami Rohr of Bal Harbour, Florida, is awarded for the best academic paper on the archaeology of late antique Judaism and the Talmudic period presented at the annual meeting of the American Schools of Oriental Research (ASOR) or at the annual meeting of the Society of Biblical Literature (SBL).
Werlin's paper was titled "Appetite for Destruction? The Archaeological Evidence for Jewish Iconoclasm." In it he discusses some of the difficulties in identifying iconoclasm, which he defines as "the willful destruction of images … of living creatures—humans, animals, gods—out of some sense of piety," in the synagogues of late-antique Palestine. He also argues that the perpetrators of the defacement of these images should not always be presumed to be pious Jews reacting against figural representations.
The John Mancini Prize for the best paper on the archaeology of early Christianity and the Patristic period was not awarded this year because the minimum three entries were not submitted.