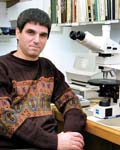 I have received numerous communications from readers regarding the e-mail from Yuval Goren printed in our January/February issue, in which he charges me with "a pivotal role" in the forgeries alleged in the ongoing forgery trial in Jerusalem.e
Let me be clear at the outset: If I had a question regarding the clay in an ancient pot, there is no one I would rather have on my team than Yuval Goren. He is a leading clay petrologist. He has served with distinction as chairman of the archaeology department of Tel Aviv University. He was an officer in the Israel Defense Forces. I enjoyed his gentle humor at a three-hour dinner he and I shared at a recent scholarly conference in San Diego. He was a gracious host when we met in Jerusalem to look at the Inscribed Ivory Pomegranate through his binocular microscope.
Having said all this, it must be added that Professor Goren is out of his field with stone. He is not a stone petrologist. He is a clay petrologist. This can be demonstrated by looking at his publication record (less than a handful of his scores of studies involve stone), but even more painful are his errors in the current forgery dispute.
For starters, take the Yehoash Inscription on a black stone plaque.f Professor Goren mis-identified the type of stone (see "New Study Supports Authenticity of Yehoash Inscription," in "Strata," above).