Biblical Archaeology Review 35:2, March/April 2009
Strata: Raphael Masterpiece Returns with Fresh Face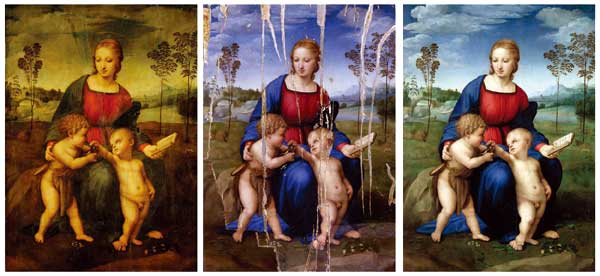 After ten years undergoing restoration in one of Italy's state-run labs, Raphael's 1506 Madonna of the Goldfinch is back on display in Florence's Palazzo Medici.
The scene depicts Mary embracing a young Jesus and John the Baptist, who caress a goldfinch. The goldfinch, a bird known to feed among thorns, was considered a symbol of Jesus' later passion and death because it recalled his crown of thorns.
Raphael (1483–1520) painted the 42-by-30-inch oil-on-wood piece as a wedding gift for Florentine wool merchant Lorenzo Nasi, but it shattered into pieces when the Nasi house collapsed in 1547. The work was repaired by Raphael's contemporary Ridolfo di Ghirlandaio, who nailed the fragments back together and painted over the seams. The piece became part of the Medici family's collection and was ultimately acquired by Florence's famed Uffizi Gallery.
Centuries of wear and tear—and repair—had resulted in a dark, dreary appearance and visible damage (see photo at far left). The lab team at Florence's Opificio delle Pietre Dure painstakingly removed the layers of grime and over-painting (center) and microscopically restored the piece to reveal the stunningly rich, vibrant work (right) that Raphael originally created.
Following its current exhibition at the Palazzo Medici, Raphael's Madonna will return to its home at the Uffizi Gallery. "We will celebrate it like the return of our prodigal daughter," said Antonio Natali of the Uffizi.