Answer: 156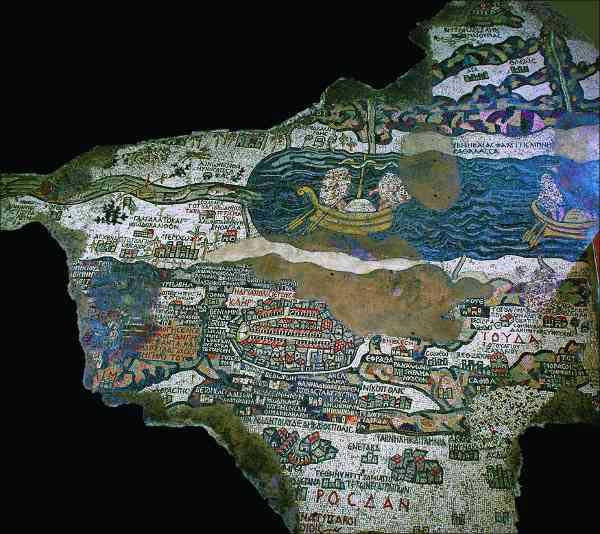 The Madaba Map is perhaps best known for its oval-shaped, top-down view of Byzantine Jerusalem. The sixth-century A.D. mosaic map on the floor of the Church of St. George in Madaba, Jordan, gives a schematic but colorful impression of the city's walls and towers, its main streets and gates, and its major Christian sites, including the Church of the Holy Sepulchre.
But Jerusalem is only one of the focal points of the map, the earliest known cartographic representation of the Holy Land. Originally made up of more than two million tiny colored ceramic tiles, or tesserae, the mosaic vibrantly depicts more than 150 towns, regions and Biblical sites in an area stretching from southern Syria to the Egyptian Nile. In addition to realistic and even comical depictions of the Dead Sea and the Jordan River (e.g., fish suddenly swimming away from the salty Dead Sea) and the Sinai Desert, the map also portrays the walls, streets and buildings of important towns like Ashkelon, Neapolis (Nablus) and Jericho. For a Byzantine pilgrim walking around the edges of the 560-square-foot map, the mosaic would have provided an excellent visual guide to the Holy Land.
The map was also clearly meant to be a lesson in Biblical geography. Included among the depictions of cities and landmarks are references to the site of Jacob's well, significant events of the Exodus, and the tribal allotments of ancient Israel.
Answer: E) Israelite pulley