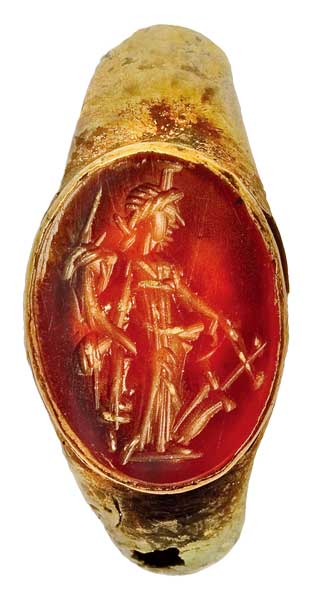 While diamonds may be a girl's best friend, gold is forever. And in honor of Israel's 60th anniversary in 2008, the Harry Oppenheimer Israel Diamond Museum, located within the Israeli Diamond Industry complex in Ramat Gan, paid tribute to the rich history of gold jewelry design in Israel with an exhibition of rare and ancient jewelry excavated at archaeological sites throughout Israel.
The exhibition took its name, Apples of Gold in Pictures of Silver, from the King James Bible version of Proverbs 25:11: "A word fitly spoken is like apples of gold in pictures of silver."
More than 100 pieces from the vast collection of the Israel Antiquities Authority, the Rockefeller Museum in Jerusalem and the Reuven and Edith Hecht Museum in Haifa were individually selected for display by curator Yehuda Kassif.
Some of the simple gold hoop earrings in the exhibit date to around 2500 B.C., and other pieces are from the Biblical period in the Holy Land.
By viewing these ancient pieces of jewelry, said Kassif, one can imagine the Biblical scene of the meeting between Abraham's servant and Rebecca at the oasis water well. "He gives her some bracelets and jewelry and asks her about her household. From here it is a short jump to Rebecca becoming a matriarch of the Jewish people," said Kassif. "Even though we don't have those actual bracelets, a glimpse at the earrings and bracelets from that period that we do have in the exhibit immediately brings up those images of our earliest forefathers."