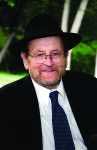 Joseph Baumgarten, an expert in rabbinic law who published pioneering work on the Dead Sea Scrolls, died on December 4, 2008, after a long and difficult bout with cancer. He was 80 years old.
Born in Vienna in 1928 to a family of Eastern European Jews, Baumgarten moved in 1939 with his parents to the United States to escape the Nazis advancing into Austria. He attended Mesifta Torah Vodaath Yeshiva in Brooklyn, New York, where he was ordained a rabbi in 1950.
After receiving a B.A. in mathematics from Brooklyn College, he enrolled at the Johns Hopkins University to pursue graduate work in mathematics. There he met William Foxwell Albright, the world's leading expert in ancient Near Eastern studies. When Albright showed Baumgarten photos of a few of the early Dead Sea Scrolls, he changed his plans and shifted to Semitic studies.
In 1953 he began teaching at the Baltimore Hebrew College, where he ultimately became professor of post-Biblical rabbinic literature. He simultaneously served as a congregational rabbi, leading the Bnai Jacob Congregation in Baltimore.