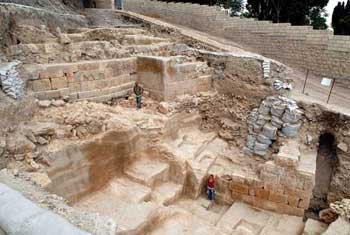 The ancient city of Jerusalem reached its greatest extent just before the Great Jewish Revolt of 66–70 A.D., during which the Romans conquered the city and destroyed the Temple. The southern wall of that city, constructed by the Hasmoneans in the second century B.C. was recently uncovered in an excavation on Mt. Zion sponsored by the Israel Antiquities Authority (IAA), the Nature and Parks Authority and the Ir David Foundation.
Mt. Zion is the modern name given to the western ridge of Jerusalem. During the Hasmonean period the city walls encircled today's Old City as well as the two lower ridges and a large area north of the Old City walls. The location of the southern wall was first discovered in the 1890s by archaeologist Frederick Jones Bliss and architect Archibald Dickie of the Palestine Exploration Fund. Their excavation shafts had been filled in and forgotten until current dig director Yehiel Zelinger undertook the new excavation to identify and re-excavate the walls.
In addition to a shoe, a gas light and some broken beer bottles left behind by the original 19th-century exavators, Zelinger and his team recovered numerous pottery sherds in a soil fill abutting the wall that helped them date the construction to before the destruction of Jerusalem in 70 A.D. According to Zelinger this area was probably a rubbish dump just outside the ancient city, which explains the number of broken and fragmentary vessels.