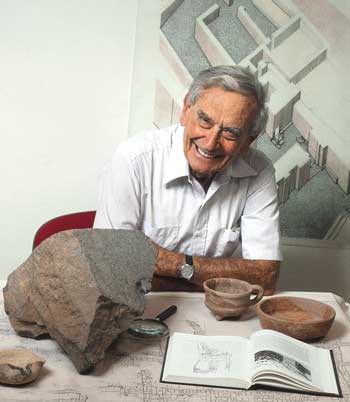 Professor Avraham Biran, the renowned Israeli archaeologist and former director of the Nelson Glueck School of Biblical Archaeology (NGSBA), passed away on September 16, 2008, just one month shy of his 99th birthday. In 2002 Dr. Biran was awarded the State of Israel's most distinguished honor, the Israel Prize, in recognition of his contributions to the field of archaeological research in the Land of Israel.
Avraham Biran was born in 1909 to Aharon and Naomi Bergman (in 1949, with the declaration of the State of Israel, he changed his name to a Hebrew one, Biran, a practice followed by many other Jews in Israel at the time). Avraham was a third-generation southern Levantine Jew. Following the death of his father in 1919, although desperately poor, his mother insisted on sending Avraham and his sister to Haifa's prestigious Reali high school founded in 1913—a place Biran and many others have referred to as the "Eton of Palestine." By the time Avraham was 13, he and his siblings had been orphaned. The adversity of losing his parents early in life propelled him to dream, to work extremely hard in his studies and to develop an amazingly positive sense of humor.
Biran traveled by ocean liner in the early 1930s to pursue university studies in the United States. There he took his B.A. degree from the University of Pennsylvania and a Ph.D. from the Johns Hopkins University in Baltimore, where he studied under the great scholar William Foxwell Albright and became Albright's first Ph.D. student. To the end of his life, Biran acknowledged his great intellectual debt to Albright.