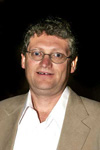 Avraham Faust is associate professor of archaeology and director of the Institute of Archaeology at Bar-Ilan University. As part of a new generation of Biblical archaeologists focused on questions of social formation and identity, Faust is using anthropological models and concepts to transform contemporary understandings of ancient Israel. His recent book, Israel's Ethnogenesis: Settlement, Interaction, Expansion and Resistance (Equinox Publishing Ltd., 2007), deals with the processes that led to Israel's emergence in Canaan and its ethnic negotiations and boundary maintenance during the Iron Age (see review). This excerpt, taken from the postscript of the book, highlights the ongoing ideological debate over Israel's origins.
It appears that until the 1960s, the identification of the settlers of the highland villages [of Canaan in Iron Age I, 1200–1000 B.C.E.] as Israelites was quite straightforward. The highland "archaeological culture," in the spirit of the Culture History school, was simply viewed as Israelite. This culture was differentiated from the Philistine of the southern coastal plain and the Canaanite of the northern valleys.
The first trigger behind the questioning of the Israelite label on the settlers of the highland Iron I sites was our awareness of other groups, such as the Hivites, Kenites, etc., who were active at the time but not identified archaeologically.