Biblical Archaeology Review 34:3, May/June 2008
Archaeological Views: Archaeologists—A Community of Compassion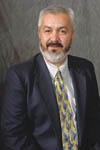 BAR columnists usually address some aspect of the archaeological enterprise—a discussion of field methods, current trends or a personal account of a life in archaeology. Often, a columnist will discuss whether there is such a discipline as Biblical archaeology and, if so, whether it is alive, dead or limping along. Articles in BAR sometimes give the impression that our field is polarized, with scholars constantly lining up in opposition to one another.
But I would like to present a personal view of archaeologists that is not often seen in the public forum—and to offer a public thanks to the archaeological community.
After teaching archaeology and Biblical backgrounds at New Orleans Baptist Theological Seminary for six years, I was preparing for my sabbatical year and initiating a new excavation project with Sam Wolff of the Israel Antiquities Authority (IAA) at Tel Gezer. We had met the previous two summers to plan our research and to coordinate logistics at the site.
I grew up in southern California and was still adjusting to life in New Orleans. My family was slowly adapting to Mardi Gras and hurricane seasons. Both seasons would bring the city to a standstill and cause mass migrations (Mardi Gras would swell the population, hurricanes would cause an exodus).