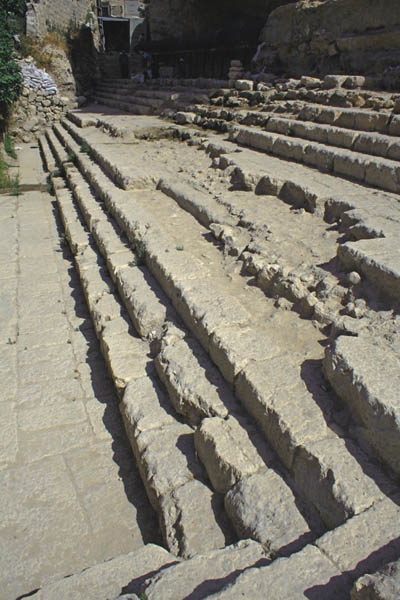 Jesus spit on the ground, creating some mud with his saliva; he then applied the mud to the eyelids of a beggar who had been blind since birth and told him to bathe in the Pool of Siloam. When the blind man did so, he could see (John 9:1–11). A few years ago, the Pool of Siloam where this miracle occurred was discovered in a Jerusalem excavation.a
Located at the southern end of the City of David (the oldest part of Jerusalem), near the outlet of Hezekiah's Tunnel, the Pool of Siloam is now a must-see on any trip to the Holy City.
Ronny Reich and Eli Shukron, who are excavating the site on behalf of the Israel Antiquities Authority, have suggested that the Siloam Pool may have been a large public mikveh, or Jewish ritual bath. Not so, says Yoel Elitzur of The Hebrew University in a forthcoming article1: The Pool of Siloam, he says, was probably a public swimming pool!