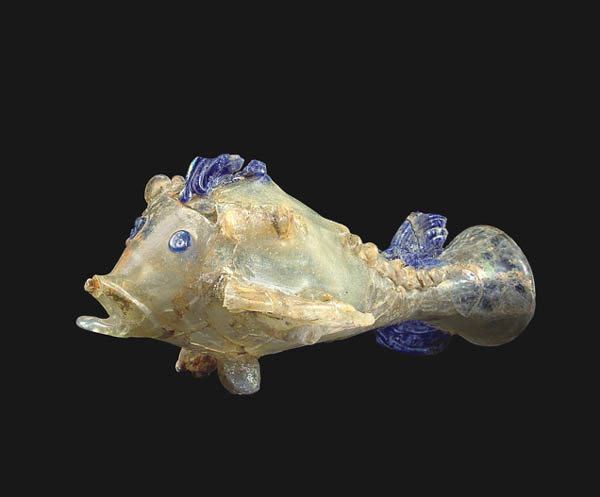 The ancient city of Kapisa—modern Bagram, Afghanistan—has always straddled the East-West divide. The city was destroyed by Cyrus, rebuilt by Darius and fortified by Alexander the Great, earning it the distinction of "Alexandria of the Caucasus." By the first century A.D., it was the summer capital of the Kushans, whose empire had its roots to the east, in China.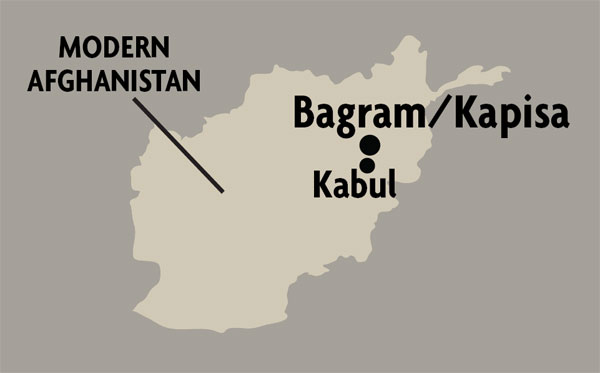 Bagram's archaeological record reflects the city's role as an important trading post between the Roman, Persian, Chinese and Indian peoples. One of 22 such items discovered in the ruins of a monumental building in Bagram, this first-century glass, fish-shaped flask is possibly of Roman origin and is believed to have been blown in the legendary glass workshops of the Phoenician coast.
Although its exact use is not known, the flask, which measures 3 by 4 by 8 inches, might have held water, wine or perfume and served as an offering to the dead. The fish was a Roman symbol of fertility. Some scholars believe that it is a rhyton, a ritual drinking cup of Eastern cultures, whose special attribute is that it cannot be set down.
The fish flask was recovered in 2003 among many glass wares and other treasures in a vault beneath the presidential palace in Kabul, Afghanistan. These treasures are now on display at the National Gallery of Art in Washington, D.C., until September.