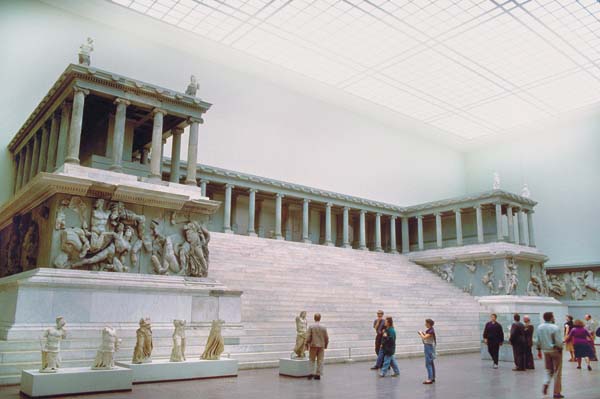 In the Book of Revelation, a prophet named John experiences a vision of the risen Christ, who asks him to convey a message to each of the seven Christian congregations of Asia Minor—Ephesus, Smyrna, Pergamon, Thyatira, Sardis, Philadelphia and Laodikeia. To the 028Pergamon congregation, this is the message:
And to the angel of the congregation that is in Pergamon write: "Thus says the one who has the sharp, two-edged sword:

'I know where you dwell, where the throne of Satan is, and you hold fast to my name and you did not deny my faith even in the days of Antipas, my witness, my faithful one, who was killed among you, where Satan dwells.'"

(Revelation 2:12–13)
On a symbolic level, the "throne of Satan" mentioned in this passage represents a power in opposition to God, a power that is embodied in Roman imperial might. Throughout Revelation, a system of symbols associates Satan, depicted as a dragon or serpent, with the Roman Empire and emperor depicted as a beast.
Unlike other early Christian writers, John the prophet did not encourage his audience to honor and obey the emperor, but instead encouraged—by means of his symbols and rhetoric—resistance.