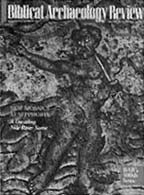 Who Needs More Bad News?
Please do not send me any more Biblical Archaeology Review. It's bad enough reading modern history.
Pope Barton
Santa Monica, California
Something to Sink Your Teeth Into
What a delight it is to receive each issue of BAR! I love to read the letters to the editor and bathe in the ebb and flow of competing and conflicting ideas and interpretations.
Reading BAR has answered some of my questions, opened my mind to many other questions and greatly expanded my grasp of the reality of Biblical history. Far from being a distant mythical wisp of belief, Biblical history now has a reality that it never had for me before I began receiving your magazine. I might not always find the flavor to my exact taste, but I'm never left looking for something real to sink my teeth into.
Linden Hankins
Bonanza, Oregon