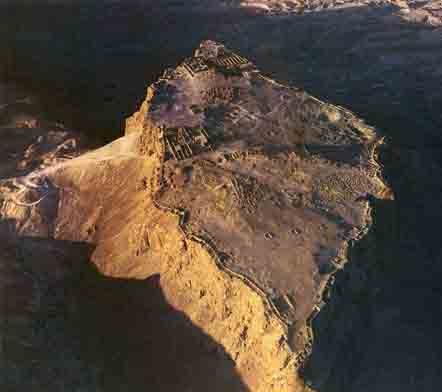 The last stand in the First Jewish Revolt against Rome took place on the nearly diamond-shaped mountaintop of Masada, site of a palace-fortress completed by Herod the Great (37–4 B.C.E.).
Jewish Zealots who occupied Masada at the start of the revolt in 66 C.E. held the site throughout the war and became the last outpost of resistance to the Romans after the fall of Jerusalem in 70 C.E. Despite a tenacious defense, the Zealots finally succumbed to the Roman siege in 73 or 74 C.E. Rather than allow 022themselves to be taken prisoner and enslaved, they chose to commit mass suicide.
Since Yigael Yadin's untimely death in 1984, a group of scholarsa has been working assiduously to complete the final publication of Masada, Yadin's most famous excavation. Herod's desolate mountain palace-fortress at Masada is located in the Judean wilderness near the western shore of the Dead Sea.