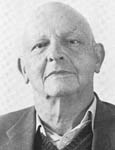 Menahem Stern, Leading Historian on Second Temple Period, Murdered in Jerusalem
Professor Menahem Stern of the Hebrew University of Jerusalem was stabbed to death as he walked to the university library on June 22, 1989. The murder occurred on a path he had walked every day for many years. At press-time, the identity and motive of the killer or killers still eludes police, though immediately after the killing police said that terrorism was the most likely cause of the attack.
Professor Moshe David Herr, a close friend and colleague of Stern, said he did not think the murderer was anyone who knew Stern. Herr added that Stern "was a man without enemies, the last person one would imagine being found in a violent context."
A Lithuanian Jew, Stern was born in 1925 in Bialystok, then part of Poland. He was brought to Israel in 1938 and attended a Tel Aviv high school before going to Hebrew University. Stern became a member of the university faculty even before receiving his doctorate in 1960. In addition to his knowledge of Hebrew and classical languages, Stern was fluent in German and French and had taught himself Italian and Dutch, giving him access to a large portion of European literature and culture.
The publication of his magnum opus, the three-volume Greek and Latin Authors on Jews and Judaism, occupied over ten years, from 1974 to 1984. During this period, he received the Israel Prize in Jewish History (1977) and the Wiznitzer Prize (1981) for the year's best book in the field.