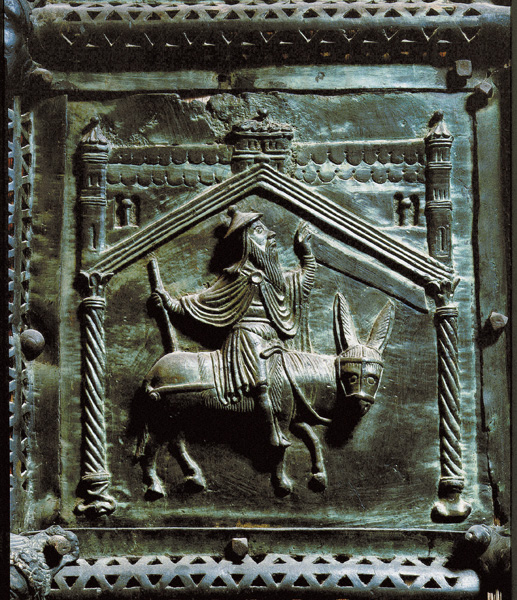 The proud soothsayer Balaam rides his wise and loquacious donkey to Moab in this bronze door panel from the Basilica of San Zeno in Verona, Italy.
Numbers 22 relates how Balaam, famous for the power of his curses, is summoned by the Moabite king Balak to help deal with the threat of the invading Israelites. On the way, Balaam's ass is turned aside three times by a sword-wielding angel of the Lord. Each time, the soothsayer, unable to see the angel, beats and curses his mount to drive her onward. Finally the ass opens her mouth and speaks: "What have I done to you, that you have struck me these three times?" (Numbers 22:28).
"Because you have made sport of me," the angry Balaam answers—seemingly unsurprised that his donkey should speak. The man and the ass bicker until "the Lord opened the eyes of Balaam" (Numbers 22:31), revealing the angel that has blocked their path. The angel instructs Balaam to go onward but to say only what God tells him to say. Later, in front of the dismayed King Balak, Balaam repeatedly curses the Moabites and foretells great victory for their Israelite enemies.
In this door panel, made in about 1150, Balaam rides with his head held high and his eyes averted or perhaps shut—as though he is so sure of his soothsaying ability he feels no need to actually look where he is going. His humble beast of burden gazes wide-eyed at the viewer, inviting us to savor the irony of a great seer who, in his arrogance, cannot see.