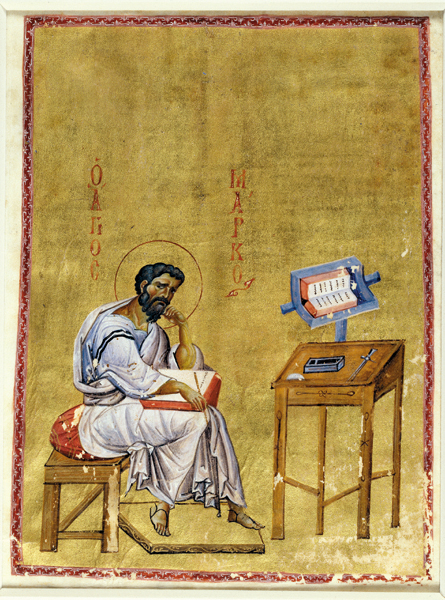 The beginning of the gospel of Jesus Christ the Son of God … The evangelist Mark, having set down the first line of his gospel, considers what to write next in this illuminated leaf from a late-tenth-century gospel book from Constantinople. Deep in reflection—or does he have writer's block?—Mark seems fully aware of the monumental task he is about to undertake: to chronicle Jesus' life and death.
The masterful illuminator of this page has portrayed Mark in classical attire and with classical proportions—basing the work on ancient portraits of philosophers. But the artist has depicted the setting of Mark's labor as a tenth-century scribe's study, with a book on a lectern, and an inkwell and compass resting on a sloping wooden desk.
It was common for gospel books to open with a picture of the particular evangelist writing his account. Typically, Mark is shown having Jesus' story dictated to him—by a winged lion (his symbolic attribute), by the apostle Peter (upon whose recollections Mark's gospel is supposed to have been based) or by Jesus himself. But this miniature lacks those elements. Here Mark can draw on nothing but his own inspiration.
As a tribute to the ancient writer, the artist boldly inscribed the evangelist's Greek name, Ho Hagios Marko (Holy, or Saint, Mark), in red with a flourish on the gold background.