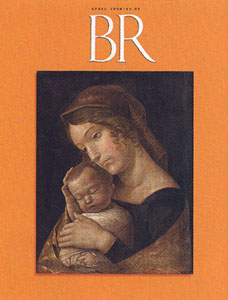 Getting Behind in His Reading
When I decided to accept a trial subscription offer, I was prepared for some articles containing slightly liberal presuppositions. What I was not prepared for, however, was a photograph of the entire backside of a naked woman ("Casting Genesis: George Segal's Biblical Sculptures," BR 16:02). I realize we are all liberated adults, and this photo was not shocking or scandalous—I do not consider it pornographic or anything close. But what if my three-year-old had gotten ahold of this? Could I explain to her that it is all right to view nudity in one context but not another? Its inclusion seemed to me to reflect something more reprehensible than a deliberate attempt to push the envelope: In my mind it simply reflects bad taste.
Thank you for the introduction to BR, but if this is what is in store for me, I think I'd rather not. Please cancel my subscription immediately.