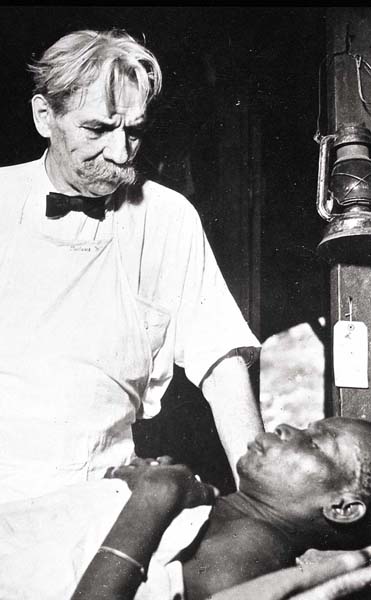 At the age of 21, after studying in Paris, Berlin and Strasbourg, Albert Schweitzer (1875–1965) decided to devote the first 30 years of his life to art and learning; after that, he vowed, he would serve humanity.
The son of a Lutheran pastor, Schweitzer himself was licensed as a curate in 1899. In that same year he took his doctorate in philosophy at the University of Strasbourg, where he later taught in the theological college until 1913; as a theologian, he published a series of influential books on the world of the Gospels. During this period, Schweitzer also became known as a leading authority on Johann Sebastian Bach—about whom he wrote a biography—and as an organist and organ designer.
In 1905, Schweitzer began to prepare for his "other life": He studied medicine, earned his degree in 1913 and left for west Africa with his wife, a nurse, to establish a missionary hospital in Gabon. Except for a few short-lived interruptions, Schweitzer spent his remaining 50 years in Africa fighting leprosy and sleeping sickness—a period of prodigious philanthropy that earned him the Nobel Peace Prize in 1952.