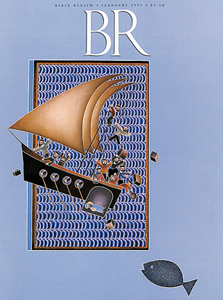 Missionary Ads
After mulling over several renewal notices for BR, I was all set to renew even though I find in it little of practical value and most of its writers appear to be "puffed up" over knowledge for knowledge's sake. Nevertheless, I still find some of the articles interesting and thought-provoking.
However, I find it unconscionable that a magazine devoted to the Bible would accept advertising designed to discredit people who actually believe the Bible. I'm referring to the half-page ad in the December 1994 issue that markets "The Jewish Response to Missionaries." Even though the Bible indicates that the Gospel is for "the Jew first," I doubt that BR would accept an ad that has as its theme "Why Jewish People Need the Gospel."
I realize that BR includes non-endorsement statements regarding advertising, but I believe it's wrong for a publication that supposedly upholds both the Old and New Testaments to allow itself to be used by partisan religious leaders to foster and maintain division and ill-will. Therefore, I will not renew my subscription to BR.
Larry Dotson
Centerville, Tennessee
We do not accept ads that seek to convert people of one religion to another religion. The ad you refer to is specifically addressed to Jews.—Ed.